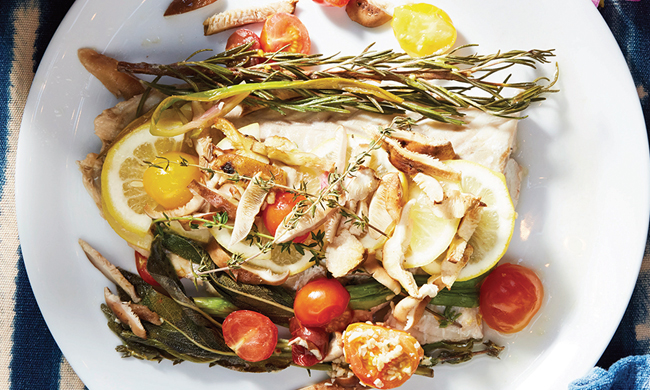 The transition from summer to fall – from lounging poolside to cozying up fireside – offers opportunities for a different take on entertaining your guests in unexpected ways. Whether it's a simple dinner with a few friends or a big bash for a crowd, there are simple touches of glamour and charm that can take your hosting skills to a new level.
To help guide your vision for entertaining this autumn, top sommelier Chantelle Pabros and Spring Street Social Society's hosting guru Amy Virginia Buchanan shared their favorite tips.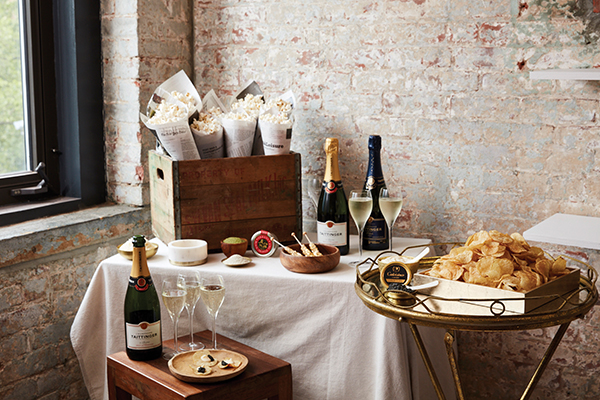 Soak in the Season
The bold colors of changing leaves and vivid sunsets mean fall is arriving. Let this backdrop serve as the perfect setting for a toast the next time you host friends. Before guests arrive, set up soft and colorful cotton-weave throw blankets so everyone can keep warm as they enjoy Mother Nature from the comfort of the backyard.
Pabros and Buchanan suggest incorporating shades of the season, including deep maroons, oranges and peaches, into a spread of finger foods. Visit your favorite local bakeshop and pick up items for a sweet station such as macarons and scones with filling like berries, butter, clotted cream and artisanal jams. As the sun sets, match the rose-colored sunset with the deep hue of Champagne Taittinger Prestige Rosé.
Pairing Perfection
A dinner party is the ultimate opportunity to show off your hosting skills as well as your taste, with wine pairings to complement each course. Take your guests on a culinary journey featuring unexpected dishes that celebrate the season.
Buchanan suggests impressing your table with a delightfully classic main course such as Pollock en Papillote paired with Champagne Taittinger Prélude Grands Crus, which is made exclusively with grapes sourced from Grand Cru vineyards.
Lights, Cameras, Cheers
Pabros and Buchanan agree that a movie night is the perfect way to share laughs and memories without much effort or time. After a delicious meal, invite your friends to watch a classic movie. For this part of the evening, popcorn is an obvious snack of choice. Instead of one big bowl, try taping together newspaper cones or using take-out boxes to create individual servings. You can also put together a salt bar for toppings such as matcha salt, truffle salt and grated cheeses. To sweeten things up, Pabros suggests picking up a jar of salted caramel and drizzling over the popcorn.
"Try pairing it with Champagne Taittinger Brut La Française," Pabros said. "The peachy, nutty, butterscotch notes of the Champagne pair well with the caramel-coated popcorn."
Find more entertaining inspiration at Facebook.com/taittingerUSA.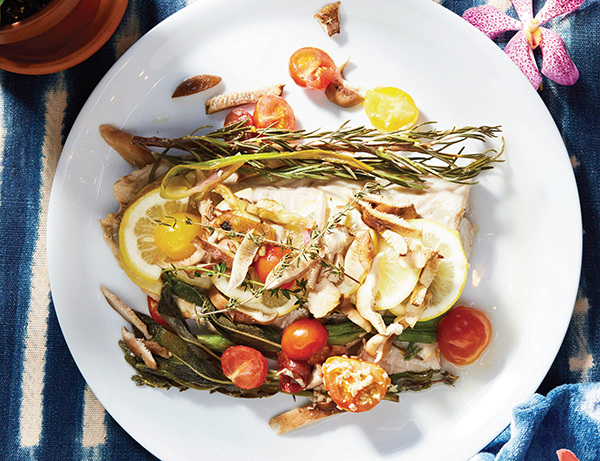 Pollock en Papillote
Servings: 6
Parchment paper
Pollock
butter
salt
black pepper
1          lemon, juiced
1          lemon, sliced
rosemary
thyme
sage
4-8       cherry tomatoes, halved
1          handful shiitake mushrooms, thinly sliced
olive oil
dash of white wine
Heat oven to 425° F.
Fold piece of parchment paper in half and cut out heart shape about the size of the fish with four-inch border around edges. Sit fish center of half heart, closest to crease.
Butter center of fish.
Sprinkle salt and pepper over fish.
Sprinkle lemon juice over fish. Place lemon slices on top center of fish.
Place springs of rosemary, thyme and sage along edges of fish.
Place tomatoes and mushrooms on top of and alongside fish.
Drizzle olive oil over fish.
Starting at top of half heart, seal parchment by folding edges over themselves. When there are about 2 inches left before parchment pouch is sealed, pour wine in opening. Once filled, fold and twist pointed end to close pouch.
Bake pouch on baking sheet12 minutes.
Remove from oven and serve immediately. Pair with Champagne Taittinger Prélude Grands Crus. (Family Features)
SOURCE:
Kobrand Importers