Eye-popping recipes worth sharing
It seems that taking pictures of mouthwatering food to share online is all the rage for social media users. Food is art, and toast and its trimmings can be the perfect canvas. Creating a social media-worthy slice requires a bit of creativity, some patience, quality and, of course, aesthetically pleasing ingredients.
The versatility and distinct flavor profile of California Ripe Olives make them an ideal ingredient to fuel your imagination and add an extra bit of finesse to your edible creation.
California farmers are responsible for producing more than 95 percent of the ripe olives consumed in the United States. From planting, pruning, harvesting and processing, they make sure the highest quality olives come from their farm to your table – one can at a time. Adding olives to any dish helps bring California sunshine into each bite.
Put your creativity to the test with these delicious designs. For more delightful and artistic recipes with California Ripe Olives, visit calolive.org.
Toast Like a Butterfly
2          slices wheat bread
large butterfly cookie cutter
1/2       avocado, mashed
salt, to taste
pepper, to taste
1          cheese stick
2          slices orange bell pepper
2          thin slices red bell pepper
6          black California Ripe Olives
3          green California Ripe Olives
1          sugar snap pea
Lightly toast wheat bread and use cookie cutter to cut one wing from each slice.
Mash avocado and mix with salt and pepper, to taste. Spread on both wings.
Slice cheese stick to fit between wings and act as body of butterfly.
Slice orange bell pepper into antenna and red bell pepper into thin slices to line body of butterfly.
Slice black olives in half, lengthwise, and place on upper and lower portions of each wing. Slice green olives into rounds and place on middle of each wing.
Decorate plate with quartered olives and place sugar snap pea in center.
Pro Tips for Creating Shareable Slices:
These pro tips can take you from toast trainee to skillful slice creator.
Have a vision. Don't be afraid to sketch it out.
The base of your toast is everything. Pick a sturdy variety.
Consider your ingredients and play with flavors, textures and colors. For example, try to incorporate both green and black California Ripe Olives for greater versatility.
Shapes, colors and textures can add excitement.
Toast is a small canvas, so consider the tools you're working with and get creative.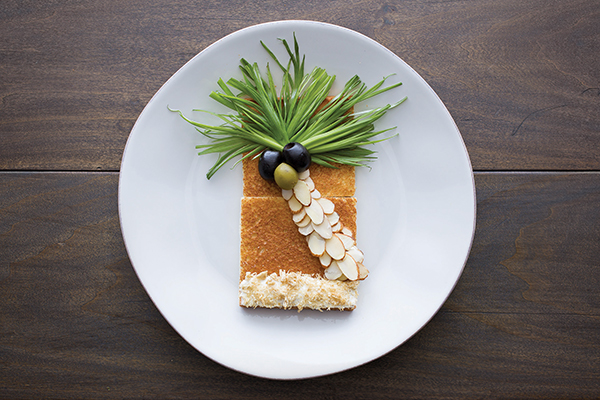 A Toast to Summer
2          slices white bread, toasted
4          tablespoons cream cheese
3          crackers, crushed
1/4       cup sliced almonds
handful leafy greens of choice (green onions, parsley, cilantro or chives)
2          black California Ripe Olives
1          green California Ripe Olive
Slice each piece of toast into a square and place one above other on plate.
Spread layer of cream cheese on bottom third of lower piece of toast and cover spread with crushed crackers.
Spread layer of cream cheese from lower-right corner to upper-left corner and, starting at bottom, layer sliced almonds on top of each other to create trunk spreading across both pieces of bread.
Arrange greens into palm fronds at top of trunk. Use cream cheese as glue if they begin to slip.
Arrange black olives and green olive as coconuts between top of trunk and base of leaves, covering bottom of leaves.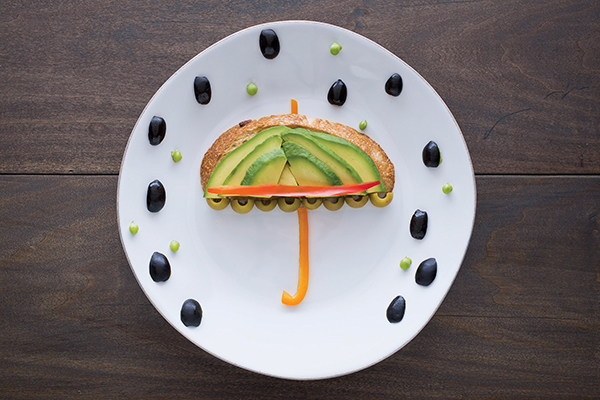 Singing in the Grain
1/4       avocado, peeled and thinly sliced
1          slice sourdough bread, toasted
salt, to taste
pepper, to taste
handful of green California Ripe Olives, sliced into rounds
1          orange bell pepper, sliced
1          red bell pepper, sliced
handful of black California Ripe Olives, sliced into raindrop shapes
1          large sugar snap pea
Arrange sliced avocado on toasted sourdough bread and top with salt and pepper, to taste.
Slice green olive rounds in half and arrange in line beneath toast.
Place one slice orange bell pepper below bread as handle and one small piece orange bell pepper above bread.
Place one straight slice of red bell pepper on bottom edge of toast.
Arrange black olive slices and sugar snap peas around toast as raindrops.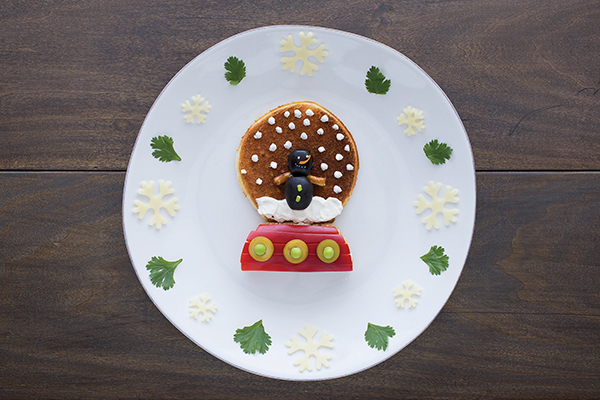 Walking in a Toasty Wonderland
2          slices white bread, toasted
2          tablespoons cream cheese, divided
5          slices red bell pepper
1          orange bell pepper, sliced small
2          black California Ripe Olives, 1 jumbo and 1 medium
5          small sugar snap peas, divided
1          pretzel stick, cut in half
3          green California Ripe Olive rounds
small snowflake cookie cutter
large snowflake cookie cutter
4          slices gouda or white cheddar cheese
8          cilantro or parsley leaves
Slice one piece of toast into circle with 4-inch diameter.
Slice second piece of toast into half-circle with 4-inch diameter, which will act as base of snow globe.
Spread 1 tablespoon cream cheese onto bottom fifth of circular toast.
Cover base of snow globe with slices of bell pepper, cut to correct width.
Stack medium black olive on top of jumbo black olive and affix to toast with cream cheese.
Add decorations to olive snowman by affixing two small sugar snap peas to body of snowman, pretzel stick arms to sides, small piece orange bell pepper for nose and two small dots cream cheese for eyes.
Decorate base with green olive rounds and three sugar snap peas in center.
Use cookie cutters to cut four small snowflakes and four large snowflakes out of slices of cheese. Arrange snowflakes around outside of plate and place cilantro leaves between each snowflake.
Place remaining cream cheese in small plastic bag and cut small hole in corner. Pipe small dots on circular toast around snowman. (Family Features)
SOURCE:
California Ripe Olive Committee