Seeking the perfect gift for the friend following the paleo diet? The following brands make excellent choices… from Paleo Butter Coffee Creamer to the Drynk, which will keep your cold brew coffee chilled for 18 hours!
Coffee++ Paleo Butter Coffee Creamer
For fans of buttered coffee, Coffee++ is the World's First Grass-fed Organic Cultured Ghee & MCT Oil blend! It does not contain any coffee or caffeine. If you follow a Paleo diet, coffee with a creamy taste is no longer an issue. Just stir Coffee++ into your coffee for a smooth, satisfying, and totally invigorating experience designed to power you through your day with clarity, focus, and energy. It tastes fantastic whether you drink it as is, add a favorite spice, or use natural sweetener. Batch-tested casein-free, lactose-free, whey-free, and gluten-free. Available in two sizes. www.pureindianfoods.com.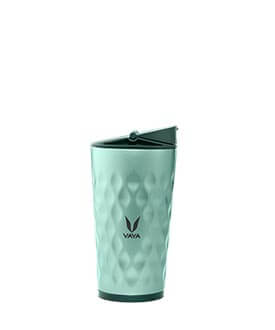 Drynk Beverage Containers from Vaya Tyffyn
Not all beverage tumblers are created equal! With a built-in coaster to prevent spills, each Drynk keeps hot drinks hot for up to 12 hours and cold ones cold for up to 18 hours, ideal for those who want to enjoy their cold brew while chilled! Plus, Drynk comes with two different lids to suit your drinking style. The Sipper's magnet keeps the hinged lid open while drinking so it doesn't bump noses. The Gulper's wide mouth is great for sports or cold drinks, or for sharing drinks with the pair of accompanying cups — which also helps cut down on spreading colds and germs. Drynks come in a range of fun colors and two sizes for all ages. Visit https://vayalife.com/water-bottle.
The HyperChiller 
A cold brew coffee is within reach in 60 seconds! The HyperChiller turns any beverage into a perfectly cooled drink in just one minute without ever touching ice! With the HyperChiller's simple multi-chamber design, your beverage is exposed to the equivalent of over 30 large ice cubes, but protected by two layers of food grade stainless steel — so there's zero dilution in the process of cooling. Just leave it in your freezer, then take it out, pour your beverage in (coffee, wine, spirits etc.) and the HyperChiller will rapidly chill it in just one minute. You can even use it a couple times in a row. When you're done, just stick it back in your freezer to use again later. It's compatible with all brewing methods and even fits directly into most full-size single cup brewers. http://hyperchiller.com.
Fat Fit Go
Need a delicious, portable paleo snack to go with your cold brew? Fuel your body Fat Fit Go, which offers long-lasting energy from high-quality, blended fats including MCT and other nutrient dense super foods in every serving! With an incredible, fresh taste, these delicious, portable energy packets with real food are perfect for your on-the-go lifestyle. No preservatives or undesirable ingredients. Just clean, nutrient dense energy! Completely Paleo, Keto and Vegan. Peanut, Dairy, Sugar, Soy and Grain Free. Fat Fit Go is made with carefully crafted ingredients, and available in two delicious flavors, Tropical Margarita and Original Chocolate.
Tropical Margarita is a delightful blend of Pecans, MCT Oil, Almonds, Coconut, Macadamia Nuts, Cocoa Butter, Chia Seeds, Avocado Oil, Salt, Lime Essential Oil, and Stevia (less than 1%). It has 3g of protein, 24g of fat, and 1g of net carbs. Original Chocolate is a carefully crafted blend that includes Chia, Pecans, MCT Oil, Almonds, Coconut, Macadamia Nuts, Cocoa Butter, Chia Seeds, Avocado Oil, Cocoa Powder, Cinnamon, Salt, and Stevia (less than 1%). It has 3g of protein, 24g of fat, and 2g of net carbs. You can learn more about Fat Fit Go at www.fatfitgo.com.